-Maintenance of Alloy Wheels
How to choose good quality alloy wheel
In alloy wheel selecting, the most obvious factor is the alloy wheel brand. For example:BBS,OZ,M/T are very famous alloy wheel brands but the price is relatively higher because they have to be imported from abroad. Some domestic alloy wheel brands are also reliable after many years of testing. Other tips are given in the following part about the selecting of alloy wheels.
1.Feel the weight
Domestic alloy wheel mostly adopt the casting technique in which the dosage of aluminum depends the quality of alloy wheels. So generally speaking, the heavier the alloy wheel weights, the better the quality would be.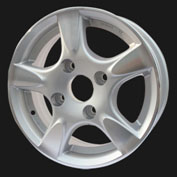 2.Knock the alloy wheel and evaluate the echo
Alloy wheel quality depends on the purity quotient of the aluminum which made it. The purer the aluminum is, the sharper the echo would be and the echo is probably going to last for seconds when people knock on the alloy wheel. If there is no echo, the alloy wheel is not of good quality.
3.Alloy wheel quality can be judged by the luster before the alloy wheel is spray-painted or plated. If the alloy wheel looks radiant and pure, it is of good quality. Otherwise it is not.